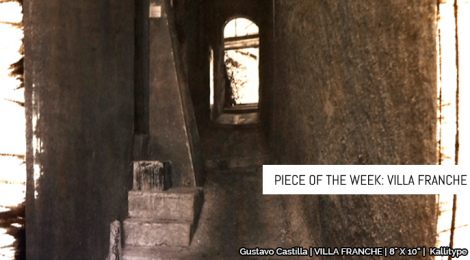 Piece of the Week: Villa Franche
This week's Piece of the Week is about Gustavo Castillo's "Villa Franche". The picture is of an empty hallway, emitting both a romantic and eerie vibe. On one hand, the hallway has a warmth to it: a window at the end casts light into the stone pathway. Yet there's something haunting about it, as though there's a lingering presence that makes passerbyers hurry along out of unrealistic but tangible fear.
"Villa Franche" is a categorized as a kallitype, which involves an iron-silver process. Prints such as these were popular in the 19th century and nicknamed "the poor man's platinum print". The brownish hue is developed through its rich toning rang.