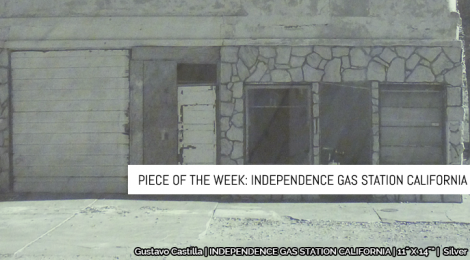 Piece of the Week: Independence Gas Station California
Gustavo Castilla's "Independence Gas Station California" is this week's Spotlight Piece. Seemingly abandoned, this structure appears worn and withered, resting quietly while time continues to pass. But this photograph is not grim – rather it represents the resilience and spunk society too often overlooks in older buildings. Forgotten by most, this gas station still persists, standing erect as it did in its glory days. While this old building is not as proud of a sight as it used to be, the recognition of its glory is the embodiment of what art should be: revealing the beauty in things unseen by the common eye.
"Independence Gas Station California" was developed using silver: by suspending silver salts in gelatin and coating it onto glass or film, the portrait is exposed and creates black-and-white images. This process was introduced in the 1870s, a characteristic seen in many of Gustavo's pieces.