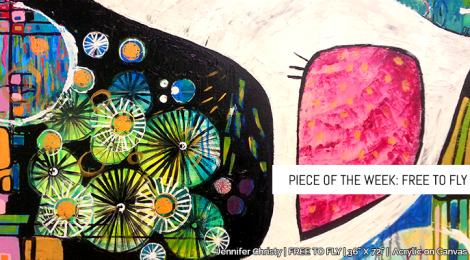 Piece of the Week: Free to Fly
Tucked in the corner of the SEAD Gallery, a large piece with white abstract birds attracts Gallery visitors with its size and variance of texture. "Free to Fly" is a piece that Jennifer Christy created earlier on in the "Push Play" series. She began this massive composition with flowing acrylics, allowing the paint to drip onto the canvas, rotating it as the paint dripped. She added more dimension by splattering and throwing the paint. The result of the technique left the canvas with a variety of interesting shapes. She filled these shapes with glass beads, glitter, and added kisses of gold all throughout the piece. After a few days of working on the painting, Jennifer began to see three similar images that left her with a feeling of freedom in her creation; she painted white birds, symbolizing boundless creativity.
The Piece of the Week should be a reminder that there are no limits to your aspirations. Life is an exciting time of boundless opportunity and moments of pure joy. It is the owner of that life that must make the decision to take that step forward.