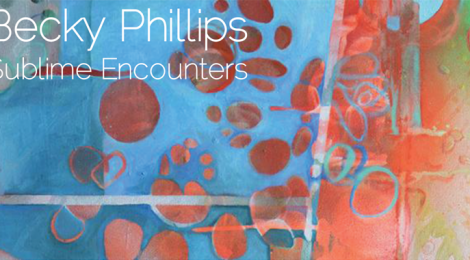 SEAD Welcomes Artist Becky Phillips
The SEAD Gallery team is happy to say the finishing touches on our latest exhibit are complete! Our feature artist is Blinn College Art Professor, Becky Phillips. Her series, aptly titled "Sublime Encounters: Science and Art Collide," was inspired by the discovery of the Higgs-Boson particle. In speaking about her art, Phillips said she is "curious about the tipping point when art and science have the capacity to nudge people's fixed perceptions." With her latest series she confronts a topic without a lack of "perceptions" or as most people call them opinions. In taking on this challenge, she is opening the door for new conversations about the process of creation – both material and artistic.
Becky will be in attendance every First Friday to answer questions and participate in conversations her work might invoke.  Our parlor gallery artist is Chuck Taylor whose digital photography series "Provocations to Love" highlights the rich history of downtown Bryan.