Finnish artist Inari Krohn's delicate, beautiful prints, in the main gallery until July 16, explore the natural world in fine detail, depicting everything from soaring birds to tiny blades of grass. But what's particularly intriguing about her art are the diverse and labor-intensive techniques Krohn uses to create these prints: etching, chine collé, and gouache.
Etching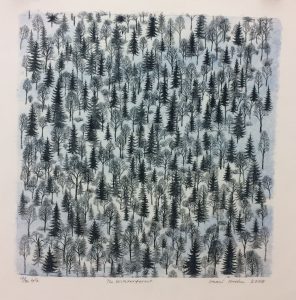 In general printmaking, the etching process usually comes first. Etching occurs on either wood or metal plates. The artist first takes a sharp tool to scrape out the fine lines of their design. Every groove the artist etches into the plate or wood block forms a furrow where ink will not be, creating a negative of the image to be printed. Krohn used this process to create the detailed images in the foreground of her prints, etching in each leaf and bird by hand into a woodblock. After the etching is complete, the artist rolls ink evenly across the plate to prepare it for printing. Krohn adds an extra step before printing her designs by including chine collé in her process.
See this video to get an idea of what etching looks like!
https://www.youtube.com/watch?v=K9O1aUrTNJs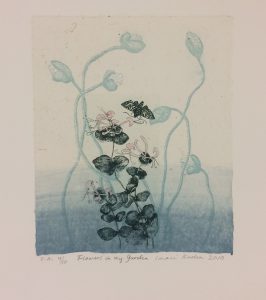 Chine Collé
"Chine collé," or "tissue and glue" adds an extra dimension to Krohn's work. After the etched plate is inked, a thin paper is placed on it, paste is applied to the paper, and then the entire ensemble is placed on damp backing paper and run through a press. The thin chine paper reacts with the ink to create a slightly different color where the paper was, adding dimension and texture to the print.
See this video to learn more about this process: (skip to 2:10 minutes to get right to the chine collé)
https://www.youtube.com/watch?v=Uh1lQRpoorE
Gouache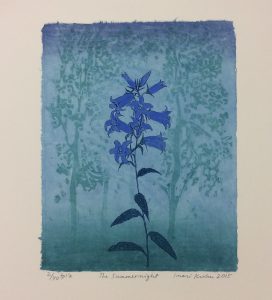 Gouache paint is very similar to watercolor paint. However, while watercolor is transparent and luminous, gouache is more opaque and dull, with a chalkier look. It's also a thicker paint that dries quickly, making it easier to layer and build up in color. Krohn uses gouache paint to add color to her prints.
See this helpful video to get an idea of what painting with gouache paint is like:
https://www.youtube.com/watch?v=G-SyIfZy1sM
Krohn's exhibit is in the