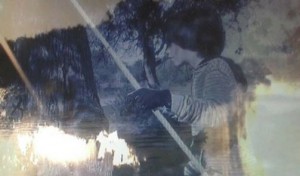 It is our pleasure to share with you yet another great artist to be featured for Woman's History Month by SEAD Gallery. A wonderful contributor to the arts of Historic Downtown Bryan, Becky Eddy Phillips, will showcase her latest exhibition, The Long Black Wig Project, at the Amity of Bryan on March 24-27th. This ever-developing project provides a glimpse into the multi-threaded mindset of a local artist and mother. This multimedia based experience will exude her interests in science, mothering, contemporary and world issues, along with a glowing truth about the Cult of Consumption. Phillips uses larger than life sculptures, projected video imagery, and historically imagined characters to narrate the effects of feel good chemicals in our brains and an awareness of being alive. Many props surrounding The Long Black Wig Project are influenced by objects special to Phillips, such as childhood stickers and an old hammer that breaks through a reality, likened to the symbolism of Yoko Ono.
"Recall the idiom Everything But the Kitchen Sink… This is NOT that space."
Please join us for a reception celebrating her project on March the 24th from 7-9PM at the Amity.
RSVP Facebook event