Nestled in Historic Downtown Bryan in a beautiful 100-year-old building, SEAD Gallery brings character to your special event with it's unique mix of sophistication and cultural arts. SEAD Gallery is curated by the Arts Council of the Brazos Valley, original fine art hangs on the walls making it a perfect venue for intimate weddings, receptions, showers, business retreats and private parties.
The space can become a blank canvas that can be transformed into whatever style suits the personality of your event. Modern linens by Ashley and Co. along with exotic floral arrangements designed by Postoak Florist give the gallery a very modern and festive feel and perfectly compliment the works of artist, Mick Burson currently being displayed in the gallery. This setting is ideal for a social gathering for a community service organization, corporate reception or even a party with friends and family. (After all, who really wants to clean house to make it "party ready" and worry about keeping the dog from joining in the fun!)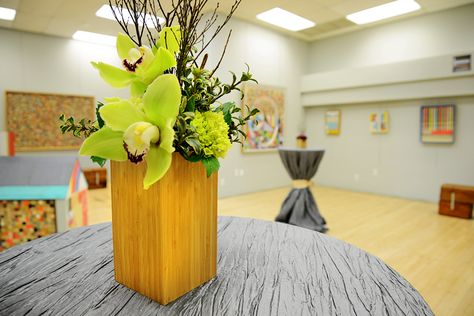 Music sets the tone for your event and we can suggest a variety of options, from a classical guitarist playing background music, an acoustic set or you can simply play your favorite playlist from your mobile device. Bartending services are also available. We can pass your favorite brands of beer and wine or mix some special signature cocktails to add another personal touch to your event. Photography and videography services are also available to capture those special memories. These beautiful photos are indicative of Jay Robinson's (staff photographer) talent and he can be of service whatever the occasion.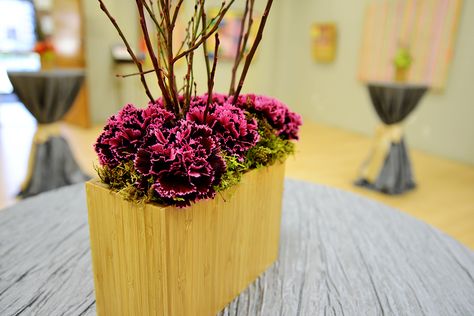 The SEAD Gallery can also host a more formal gathering such as an intimate wedding, ladies' tea or brunch or even an anniversary celebration. This table setting is absolutely stunning. The linens and gold chivari chairs provided by Ashley & Co. look beautiful with the Postoak Florist designed centerpiece and mercury votives. The Parlor area of the gallery has big windows that allow the natural light to shine in the space.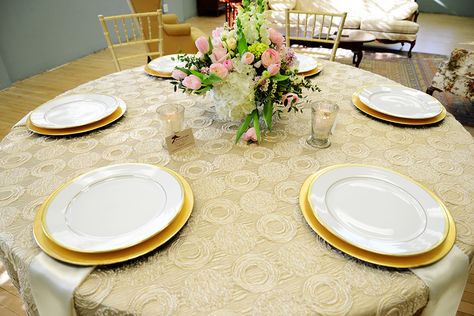 One of our clients recently hosted their wedding in the gallery and chose to dress-up one of our custom farm tables as a backdrop for the ceremony. Postoak Florist once again brought the client's vision to fruition and it was simply beautiful.
If you're like most people living a busy life balancing work and family allow Downtown Bryan Events to help you to coordinate your next event. With over 12 years of event planning experience in our community you can rest assured you are in good hands. We have established relationships with some of the finest vendors in our area.
We are all about getting new ideas to bring to the gallery and what better place to look than Pinterest! Please follow us as we continue to find fresh ideas for each of our event venues.https://www.pinterest.com/downtownbryanev/
We love the feel of this table setting and can certainly help you make this vision come to fruition for a shower, anniversary or birthday party.
https://www.pinterest.com/pin/408842472399014020/
And how beautiful is this food display?
https://www.pinterest.com/pin/408842472399014192/
SEAD Gallery has the perfect farm tables in house to be able to create this casual yet very elegant feel for your special occasion.
We can also simply recommend caterers, musicians, florists etc., or you can leave all the work to us. Coordination packages are available upon request.
All you have to do is show up and enjoy your event with your family and friends.
SEAD Gallery is clearly a unique venue for your next special event and we can't wait to help host it for you!
SEAD Gallery Credits:
Floral designs: Postoak Florist
Linens and chairs: Ashley and Co.
Photography: Jay Robinson
Fine Art: Mick Burson