This week's feature piece from Jennifer Christy's "Push Play" exhibit, titled "Have Your Cake" is possibly the most distinctive piece in her entire collection.  The texture of the painting, achieved by applying and manipulating the paints with only a palette knife and her fingers, is reminiscent of Van Gogh's famous impressionistic style, but without the same brooding angst.
With "Have Your Cake" Jennifer begins to settle into the series. The palette is a beautiful array of rich indigos, lush grassy greens, blood oranges and fleshy peach tones. It has all the color of an explosive awakening. The fact that the style stands distinctly apart from the rest of her collection may make some question its inclusion in the series, but as one of the "middle pieces" in the collection, chronologically speaking, "Have Your Cake" represents Jennifer challenging herself to stick to the rule of starting each painting differently. At the same time, the painting also symbolizes a defining benchmark within the series. It is the deep breath, at the revelation that this bold experiment is working.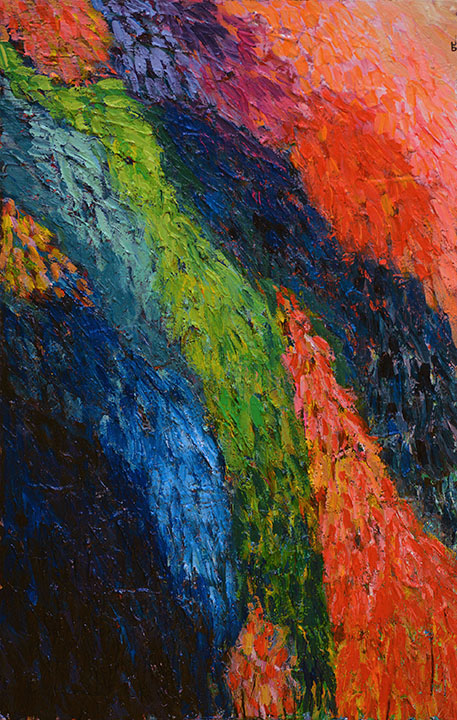 Jennifer started "Push Play" feeling creatively drained, uninspired and in many respects downright empty. The whole series was based on the loose hypothesis, that the expectations she had for her work were actually sapping her of creative energy. "Have Your Cake" is precisely what Jennifer was doing with the piece. With each buttery whip of the palette knife or swipe of the finger, Jennifer was savoring the sweetness of the moment. She was lettering herself do something she had almost forgotten how to do – not just have her cake, but eat it too.