SEAD Gallery was honored to host the opening of our third feature artist, Becky Phillips. Her exhibit titled "Sublime Encounters: Science and Art Collide" is easily our most abstract exhibition to date and judging by the substantial crowd, her collection was well received. We were especially excited at the diversity of the attendants. There were dapper men in feathered hats and little girls in polka-dotted dresses and everything in between. Conversations were alive with energy and enthusiasm.
This diversity is testament to SEAD's mission of reaching a broad demographic of people. From lifelong art lovers to first-time gallery-goers, those in attendance had the privilege of hearing Phillips speak personally and intimately about her art. Becky told the silent audience, "I love to observe people – I'm not interested in changing them." In this way Becky doesn't consider her artwork to fit the mold of post-modernism, which is generally aimed at inciting social change and pushing progress. Being an observer, Becky is increasingly interested in the way technology has made art more accessible. She believes that we are still living in the "reverberations of the age of enlightenment." Our current culture is in many ways a reaction to our increased understanding of the world around us.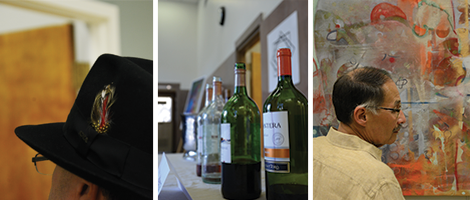 As science has progressed over the last few decades, the level of accuracy and detail with which we describe the natural phenomena has increased exponentially. Becky explains "we no longer need to create a fictitious story to be entertained – the truth is entertaining enough." The Higgs-Boson was to Phillips' the embodiment of this era of discovery and truth. Only years ago the existence of such a particle was the theoretical musing of physicists. Today the Higgs-Boson particle is practically confirmed as a scientific reality.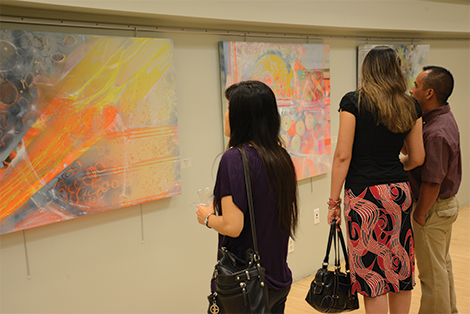 The particle has been referred to as the "God particle" for the role it plays in the creation of matter. Her art seeks to capture that fleeting burst of energy and creation before it passes away. Becky's only expectation for her series is that it invokes the "sublime." She wants people to feel the imperceptible energy that the Higgs-Boson contains – even if only for a few seconds.
Fortunately, her work will be on display for much longer than that. The exhibit will be in the SEAD Gallery until August 3oth. Whether for just a few minutes or an extended walk-through, she and our staff alike would love for you to stop by.