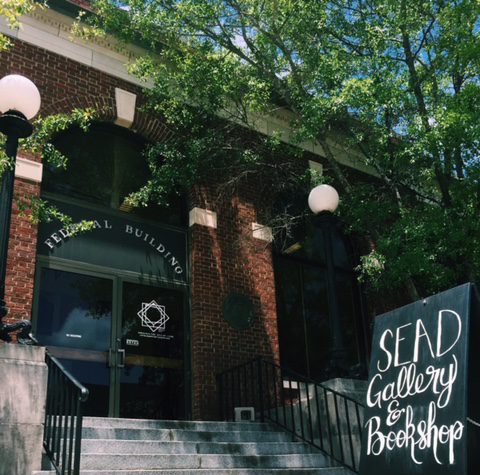 The SEAD Bookshop is a small cove full of hidden literary treasures. It contains a full range of old books in a variety of genres ranging from Hip Hop America to Monet's Water Lilies to Gulliver's Travels. Anyone is welcome to come in and read, or if a particular book catches your fancy you can purchase it through our office. We accept card, cash, and check.
However enrapturing a good book can be, experiencing our library encompasses more than just reading. We have quirky lamps designed and created by Evan Ballowe that give the SEAD Library and Bookshop an inspirational aura. Our cozy couches and reading nooks provide a homey space to catch up with a friend, curl up with a good book, or drink some tea. Our space is ideal for meetings, brainstorming, writing, reading, and reminiscing. Not to mention the free wifi and cool air conditioning that are available to the public. Come stop by and join us in the community's living room.
SEAD Gallery is a community and economic development project by Advent GX. Featuring regular exhibits by local, state and international artists, SEAD Gallery provides a downtown venue for arts and cultural exchange.
Why SEAD?
SEAD Gallery provides a venue to explore collaborations across the disciplines of Science, Engineering, Art and Design. Through exhibits and events, Advent GX seeks to encourage innovation and discover new ways to understand and positively impact our communities and our world.
The name SEAD is inspired by the work of the Network for Science, Engineering, Art and Design, which facilitates research, dialogue, and communication among those working in these disciplines. To learn more about how innovations emerging from the intersection of the sciences, engineering, arts and design are transforming our economy, culture, and learning contexts, visit the SEAD Network website and subscribe to our blog to stay involved.