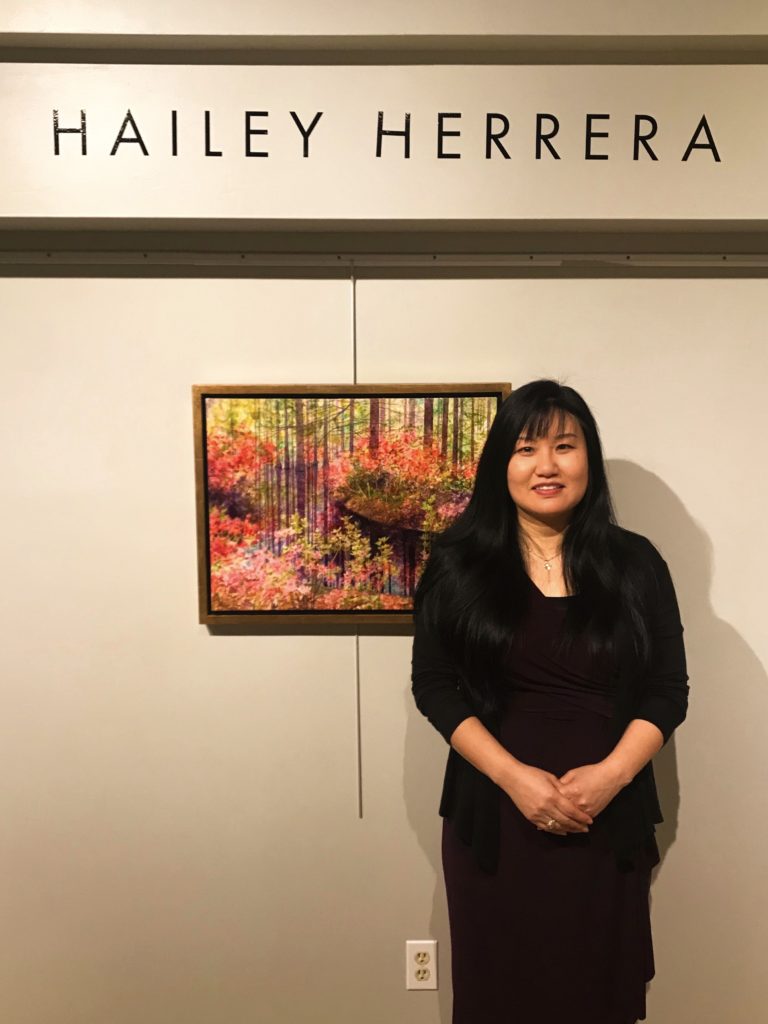 Watercolor artist, Hailey E Herrera, started painting when she was 7 years old. Growing up, she participated in many art competitions and school exhibitions. Despite her art teacher's encouragement to become an artist, she chose the career path as a scientist and graduated from Texas A&M University with a B.S. in Computer Science and a Doctorate in Philosophy. After years of being a research scientist and mathematician, she realized there was a void in her life.
Herrera says that with her career path, "I was never truly happy or satisfied. I thought I lost my path and didn't know what to do until I started painting again". She felt her passion for art blossom as she began painting watercolor full-time in 2011.
Herrera now lives in the Bryan/College Station area working as an artist teaching watercolor classes at DeGallery and City of College Station Parks & Recreation. Her use of watercolor batik method is similar to traditional batik method. Herrera explains, "I use wax as a resistance to block the areas I want to keep colors for each layer. I use paraffin wax and melt it in a hot skillet with temperature control. To wax on rice paper, dip a natural hair brush into hot melted wax and apply it onto the paper".
Having experimented with mediums such as acrylic, oil, and pastel, Herrera says, "it seems to me I enjoy painting most when I paint watercolors, and I can control watercolors better than other mediums. One of my favorite ways to paint is to drop colors onto wet paper. It is exciting to see watercolors blend together as they touch the water. I find it fun and relaxing".
She is now one of a select group of 30 Texas artists for the Art of Texas Park project to record and interpret a broad sampling of state parks in art. She received official acknowledgement as "Centennial Painters" by Texas Parks and Wildlife Department. The works by these 30 artists will debut at the State Capital and the Bullock Museum in Austin in early 2023.
Several artists have inspired her throughout her journey, such as Donald Judd, John Finscher, and Frank Balaam, but the words of W. Joe Innis and Jack White have found a special place in her heart.
"You're on your own as an artist, the best and only way to be". – W. Joe Innis
"Most artists fail because they never try. The quest for perfection and trying to please everyone is a certain formula for failure". – Jack White.