Our latest exhibit, titled Vitality: The Art and Science of an Ornithology Collection, primarily showcases the photography of an Aggie Graduate David Lund. In collaboration with the Texas A&M Wildlife and Fisheries Sciences, photographer Lund created images of some of the amazing bird specimens that were gathered by and are currently being house in the collections' of the department. 
Lund was first intrigued by and introduced to photography in his teenage years. When asked about the origins of his love for photography he answered, "A mountain biking magazine that I used to read in the '90s had full page color photographs of epic outdoor locations.  Those big beautiful photographs sparked a passion for landscape photography that persists to this day."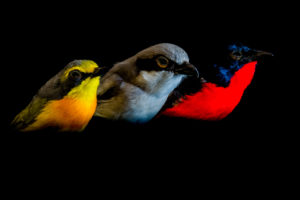 In addition to this early and particular exposure to photography, Lund explained that his time as a student and particularly as a member of the Corp of Cadets was influential to his growth: "My time as a cadet while attending Texas A&M has driven a lot of my creative work.  Many nights and early mornings have been spent on campus over the years since being a student photographing Aggie cadets, locations and landmarks and meaningful places on campus."
This particular photographic opportunity came about because of the local Bryan College Station community. Although Lund and his family are currently living elsewhere, they return often to see  friends and family. Lund was connected with the Texas A&M University Ornithology Department through a mutual friend and artist in the community. 
When asked about the experience of working with the Ornithology department Lund said that the experience was challenging and unique in the best way. Reflecting on this project he said, "This particular project was a completely new experience for me that combined some of my favorite photography themes. The creative process was a little involved for this particular shoot." 
Lund worked closely with a few of the leaders of Ornithology department in order to make these beautiful pieces possible. Heather Prestridge was partially instrument in the process: "She undertook the incredible task of preparing the scientific specimens for the photoshoot and we worked together to come up with how to showcase each bird or group of birds.  We used foam blocks, pipe cleaners and wire to prop up and position the birds, all setup on a black backdrop There was some trial and error in getting the birds positioned just right, but eventually we were able to come up with some fun and engaging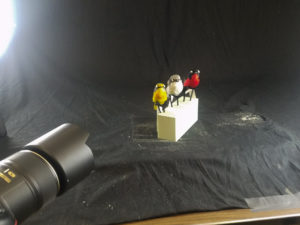 compositions." This shoot was unconventional in some ways but the creativity and hard work shows brightly through the finished products being displayed in the gallery at this time.
Lund is still pursuing photography as his main form of art but he has started to publish his own works as an author as well. Along with these things Lund enjoys spending time with his family, especially when they can be out in nature together. Come by the gallery before November 21st to see Lund's work and some of the exotic specimen of the Ornithology Collection!
"Anything worth doing is worth doing to excess." Edwin Land