Born and raised in Finland, and now living in the tropical state of Hawaii, Mirka Hokkanen strives to bring a smile to the faces of everyone she meets and fuel their creativity. We currently have a considerable amount of her work being shown at our "Walk on the Wild Side" exhibit. We were given the honor of an interview with Mirka which gave us an inside look at her incredible life and realistic artwork.
Art has always been a very import part of Mirka's life. For as long as she can remember, art has been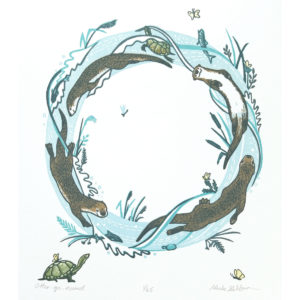 "something that can't be turned off". Now as a printmaker, artist, illustrator, and mother of three, her life has slowly become more hectic.
However, she still manages to find time to create in her studio. She is currently focused on the designing of picture book illustrations. Mirka isn't new to creating illustrations, as she is already published in a book titled "Four Otters Toboggan" by Vivian Kirkfield.
This book focuses on teaching children to count and even some of the art is displayed in our gallery. The amazing thing about these creations is how long it took her to complete. Within a span of six months, Mirka created a large mix of both illustrations and wood engravings. Mirka revealed the main reason her creations are so time-consuming, stating that "linocuts and wood engravings are, unlike painting, that when you make a cut, its done, it can't be un-cut. There are no do-overs if you mess something up."
When asked what her favorite style of art is, Mirka replied "I gravitate towards realistic detailed renderings. I love carving fur and feathers on animals. Seeing them come to life gives me so much pleasure. In drawing I'm always in love with lines, and their qualities, all my art starts out as drawings, and a lot of times I like the initial drawings better than the finished work".Everything from her pieces "Red Tail Hawk" to "The Bather (Daisy)," you are able to see every tiny but important detail in her works. Mirka's passion and dedication to her work makes every new piece her favorite.
Come take a "Walk on the Wild Side" and explore Mirka Hokkanen's art at SEAD!