From Ohio to Florida to College Station, Coleen Bradfield, one of the two artists featured in our "Walk on the Wild Side" exhibit, has paved a path of determination and passion for life wherever she has walked. We were lucky enough to pick her brain allowing us and you, the reader, to get to know her beyond the art on the walls!
Born in Ohio, Coleen has had a passion for drawing, painting, and sculpting for as long as she can remember. Her father and his studio were the foundation that developed her appreciation for art. She would spend hours in his studio watching as he drew cartoons and painted portraits every weekend. Coleen attended Ohio State University, but had to leave for family needs in 1968. However, she did not let that stop her from eventually obtaining a degree in science education and chemistry in 1975 from the Florida Institute of Technology in Melbourne, Florida. After college, Coleen pursued a career teaching chemistry and science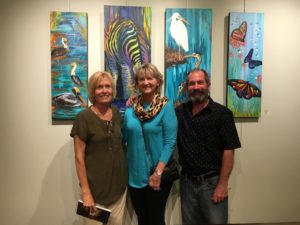 research in Florida before moving to Texas to do Population Genetics research at Texas A&M University. These days, Coleen's main focus is her art as she states, "my passion for art – specifically painting and sculpting – never faded."
When we asked Coleen about her favorite style of art, she responded, "I have recently returned to a more abstract style and enjoy blending some of my classical training with my intuitive style." This is extremely evident in many of the pieces currently being exhibited. While working on art, Coleen says her iPhone is the most important item in her gallery due to her finding inspiration of new pieces from photos that are sent to her from friends and former students of the many different adventures they have been on.
Because Coleen has pursued art for most of her life, the backlog of work she has done is extensive. Although, one piece stands a little taller than others in her eyes. Specifically referred to as "Elegant Lady," this piece was one of Coleen's first fired heads modeled, along with her use of imagination, after a model's profile in a magazine. Many ask Coleen if she has any plans on selling this piece, but even with the massive interest her daughter loves "Elegant Lady" so much that Coleen has written the piece to be given to her daughter in her will.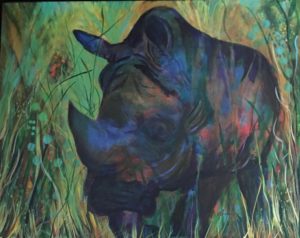 Currently, Coleen has her pieces hanging inside of SEAD with the theme of "Walk on the Wild Side." Beyond her exhibiting pieces at SEAD, Coleen has a couple of other projects in progress, such as a giraffe that she intends to "play around" with the colors and the environment behind it. She also has a special sculpture titled "Do You See Who I See?" which is modeled after a secret individual.
Come take a "Walk on the Wild Side" and explore Coleen Bradfield's art at SEAD!