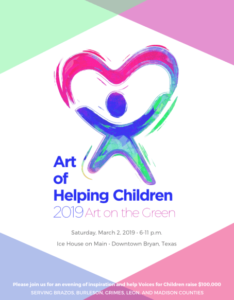 On Saturday, March 2nd, Voices for Children is hosting the 2019 Art of Helping Children Spring Gala with this years theme being Art on the Green. This event will be held at the Ice House on Main in Downtown Bryan and the SEAD Gallery is honored to present, in partnership with Degallery of College Station, the fine art auction portion of the evening. This year the fine art auction will include seven original works created by artists Crista Fer Calvillo, Tatyana Obukhova, and Charles Wallis. Their unique pieces range from traditional to abstract and are sure to catch your eye and find a perfect spot to enrich your home or office. Art on the Green will be benefiting Voices for Children, a local non-profit whose mission is to improve the lives of neglected children in foster care in the Brazos Valley area. They are able to do this through selfless volunteers and community members.

The first artist who has pieces available in the auction is Charles Wallis. He is a graduate of Baylor University and loves painting contemporary impressionists and abstract pieces. Charles loves adventures and he reflects the beauty of them in his paintings. He says "art is an expression of my spirit to the spirit of others that connect with it." Next is Sarasota based artist, Tatyana Obukhov, who strives to bring forth "the beauty of life's simple moments." Tatyana began painting at a very young age after spending time observing her fathers skills at his studio in Ukraine. Her paintings can be found in exhibits near Sarasota and also in states such as Texas and New York. Lastly, Crista Fer Calvillo will also have pieces available. She too has painted since a very young age and found a natural love and talent for it. Her striking pieces are described as a "magical journey, opening your emotions."

This year's event, Art on the Green, is not one to miss as the Ice House will be completely transformed for one night only. There is a dinner that will be followed by live music from Two Tons of Steel, drinks, and dancing. Local news reporter Rusty Surette and KBTX friends will be hosting this event. Tickets for the gala start at $150 dollars each and a table of 10 can be purchased for $1,250. All tickets and tables include entry to the after party. Join us for an exciting night benefiting an organization that gives back to our community.
More information regarding tickets can be found here: http://vfcbrazos.org/event/art-of-helping-children-2019/.