At SEAD Gallery & Bookshop our team strives for community evolvement and engagement. That can not be achieved if we do not have that sense of community in the building. The team members you see below are apart of the SEAD family and strive each day for the excellence and success of this gallery and bookshop. From First Friday's to Open Receptions, from random study groups to massive business meetings, each day and event in between caters to our community thanks to the family you see below.
Gallery Director – Joan Quintana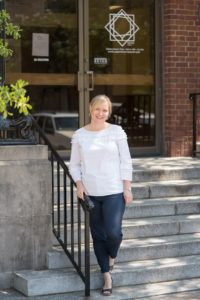 Joan Quintana serves as gallery director for SEAD Gallery, providing overall direction and curatorial oversight. Joan has a background in marketing communications and strategy development and a love for arts and culture. SEAD Gallery supports AdventGX's mission to use innovation and entrepreneurship to support cultural and heritage preservation in rural and underserved communities seeking revitalization. By curating exhibits that showcase local, regional and international artists, as well as science, engineering, and design driven exhibitions, SEAD Gallery advances the global exchange of ideas, innovation and culture, while enhancing quality of life in our beloved community.
Science & Special Projects Coordinator – Alyssa Schultz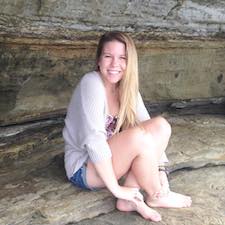 Alyssa Schultz is a PhD student at Texas A&M University and serves as the Science & Special Projects Coordinator for SEAD Gallery.After completing a bachelor's degree in Wildlife & Fisheries Sciences, Alyssa decided to take a break from the world of science and found herself as the SEAD Gallery Coordinator for some time. More recently, she has gone back to school to pursue a PhD studying the ocean, and is thrilled to merge her love of science and community together with biannual scientific exhibits built to engage and educate the local community about the science happening right in their backyard.
Creative Projects Coordinator – Marta Pate
Photo- (To be added) 
Bio- (To be added) 
Gallery Coordinator – David Costanza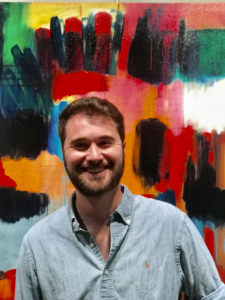 David Costanza is a Senior Communication Major and Business Minor in the College of Liberal Arts at Texas A&M University.
Along with being a student, David is Maroon Weekly's (a weekly publication that highlights events in the B/CS area) Marketing and Media Coordinator as well as SEAD Gallery and Bookshop's Gallery Coordinator and there is no shortage of busy time for him.
When he does find his free time you can either find him at his favorite Mexican restaurant, out with his friends, or enjoying some relaxing time at his house with his cat Hank.
"As someone who isn't very gifted creatively, being in SEAD is an amazing opportunity for me. I see the pieces on the walls and could never in my life attempt to replicate. That leads to my massive appreciation and love for art. Art is a medium everyone can understand, no matter the background, culture or language."
Gallery Interns – 
Erin Kasprowicz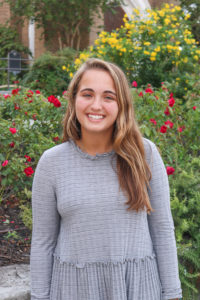 Erin Kasprowicz is a Junior Communication Major, English and Philosophy major at Texas A&M University. Along with being a student she is a Gallery Intern at SEAD. Some of her passions included reading, writing poetry and leading a Bible Study and meetings for the Fellowship of Catholic University Students and just spending time with people in general. Her weaknesses include an ocean water from Sonic and late night runs for a Honey Butter Chicken Biscuit.
Alli Goss
Alli Goss is a Junior Marketing Major with a focus in nonprofit management from Austin Texas. Alli finds life in investing in others and is passionate about missions. She loves spending time listening to live music, going on road trips, and planning events.
Rachel Racicot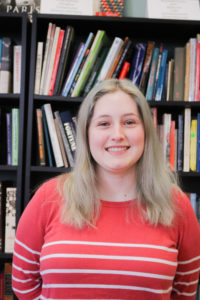 Rachel Racicot is a Senior Telecommunication Media Studies Major and English Minor at Texas A&M University. She is an intern at the SEAD Gallery & Bookshop where she is currently working on sorting through a large collection of books so the gallery can have a second book room. She also helps to maintain the SEAD Gallery & Bookshop social media pages. When she is not at the gallery, work, or in class you will still find her around books, searching for her next favorite. Every year Rachel sets a goal to read over one hundred books which she has met the last few years and looks forward to meeting it again this year.
Interested in joining the team? Want an internship? Email davidscostanza@gmail.com for more info!