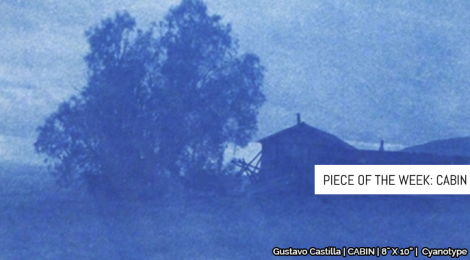 Piece of the Week: Cabin
This week's Piece of the Week is Cabin by Gustavo Castilla. In the photograph, a cabin and a tree are surrounded by empty land. The photograph is a perfect embodiment of the concept of solitude. The cabin appears to be the only thing in sight for miles around. The blue tint of the cyanotype creates a somber atmosphere – almost as if the scene was unearthly.
Cabin is a Cyanotype, which is a low-cost photographic printing process that uses two chemicals, ammonium iron citrate and potassium ferricyanide. In a cyanotype, blue is often the desired color.