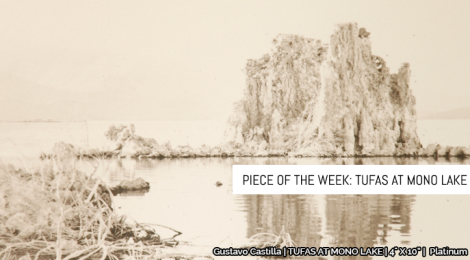 Piece of the Week: Tufas at Mono Lake
This week, the Spotlight Piece is Gustavo Castilla's "Tufas at Mono Lake". A landscape shot, this photograph displays a calming snapshot of this magnificent body of water. With waves crashing against the sand underneath robust clouds, the viewer is immediately transported to an immensely grand environment. Because this picture is black and white, the contrast between land, sea and sky is breathtaking. There is a depth that makes the image feel three-dimensional: as though one could peak in and taste the salt-watery air.
"Tufas at Mono Lake" is a platinum print, which is categorized as having the most in-depth tonal range in photography. These tones provide a broad scale of colors from black to white and can produce warmth in the form of reddish browns and mid-tone grays. Platinum photography is developed as an absolute matte with a deposit of platinum that is slightly absorbed onto paper. This is the most durable processes in photography and was popular in the mid-1800s.