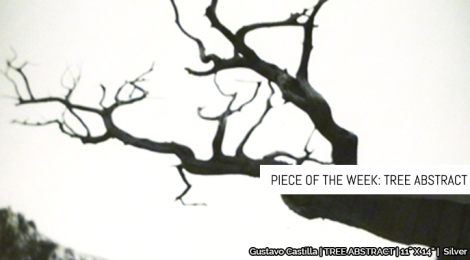 Piece of the Week: Tree Abstract
The Piece of the Week focuses on the photograph, "Tree Abstract". This picture contains a barren tree: its branches jutting out in multiple, twisted directions. A stark contrast to an empty sky behind, these limbs are dark and ominous, creating an eerie mood to the photograph. Shot from an angle, the picture seems almost three-dimensional as though a branch might extend its crooked shape outside the boundaries of the frame. "Tree Abstract" captures a gothic and intense depiction of the American Southwest.
The photograph is developed using silver: by suspending silver salts in gelatin and coating it onto glass or film, the portrait is exposed and creates black-and-white images. This process was introduced in the 1870s, a characteristic seen in many of Gustavo's pieces.