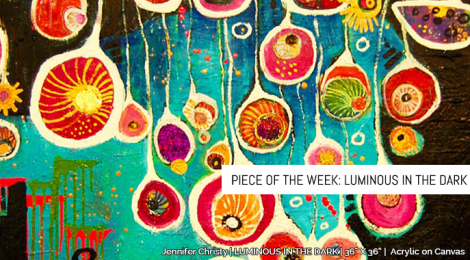 Piece of the Week: Luminous in the Dark
Alternative. That is the word that people may think when they walk into the SEAD Gallery to view Jennifer Christy's "Push Play" exhibit.  The colors, textures, patterns, and technique go against the painting norm. Jennifer continues this alternative theme in her piece, "Luminous in the Dark." The colors of the piece mainly consist of dark tones, drawing attention to the circles grouped in white paint on the lower right side of the piece. It seems to move at an upward angle as the black paint on the right side and the pink and green acrylic drippings on the left side frame the movement. White lines attached to the circular eyes reinforce the upward gesture towards the final "eye" on the top left corner. This painting reverses the normal left-to-right, top-to-bottom way of viewing things.
Come visit "Luminous in the Dark" yourself this Friday and speak with Jennifer Christy in person at Historic Downtown Bryan's May First Friday! You won't want to miss this one!