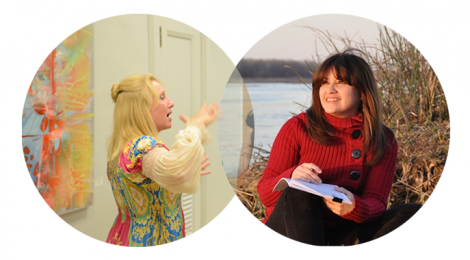 Special Event Highlights Artistic Convergence
SEAD Gallery is pleased to present "Passion for Science by The Pianist and The Painter" on Saturday, August 31st at 7:00pm. The event was co-inspired by feature artist, Becky Phillips, and local composer, Karine Gil. The concept was birthed as Karine and Becky discussed how science influenced their respective arts, musical composition and visual art. Both concluded that despite their work being produced independently, the thematic content had been cut from the same fabric. Recognizing the serendipitous confluence, they began to muse on a way to pair their works together so as to complement the other.
For those who have already seen the Sublime Encounters collection, Karine and Becky alike are confident that viewing the pieces in the context of Karine's arresting piano reverberations creates a wholly unique experience. Likewise, Karine's music shines when partnered with the cerebral images of Becky's Higgs Boson-inspired series. Whether you are a music lover or prefer the visual arts, the marriage of these two talents ensures a one of a kind sensory experience. Tickets to the event are $7 at the door, RSVP below to reserve your seat.