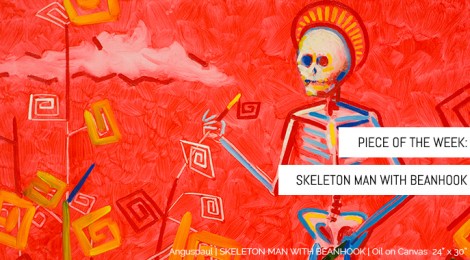 Skeleton Man with a Beanhook
Though it may look drastically different from Anguspaul's painting entitled Self Portrait, the artist describes Skeleton Man with a Bean Hook as his self portrait. The contrast between Self Portrait and Skeleton Man can be seen as a contrast between a man now and the childhood that defines that man. This painting serves as a look to the past- it illustrates the artist's childhood of walking through the fields, "hookin' beans and pickin' up hay". Also seen in this painting is the mola pattern that Anguspaul favors so much. Along with the constant use of bright colors, it is one of the few continuous things that tie all of his interesting and unique works together.
Click below for the artist's audio commentary.