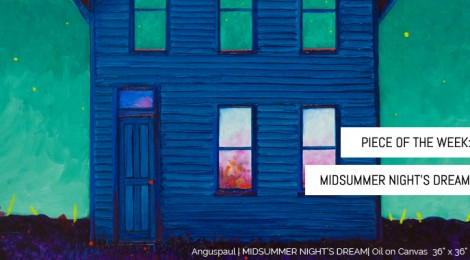 Midsummer Night's Dream
Midsummer Night's Dream, like other works in the Colorpalooza collection, is heavily influenced by photographer Dorothea Lange. Lange was extremely influential during the 1920's when she photographed the effects of the Depression in San Fransisco. Anguspaul describes Lange's work as "haunting" and attempts to invoke the same emotion when transforming her black and white photos into oil paintings. In Midsummer Night's Dream, Anguspaul's technique is to use a wide range of dark, moody colors in place of the blacks, whites, and grays of the photos. The result is a deeply moving painting that will encourage the viewer to look past the paint and canvas.
While a picture is worth a thousand words, we hope that you come in to experience Midsummer Night's Dream for yourself.
Below you will find audio commentary from the artist on Midsummer Night's Dream: